I promised a linky and here it is - what you rocking?
Show me your top outfit of the week, your best bargains, your hottest look - let me know where you got it, what you paid, why you love it!
Remember that #whatyourocking is about style, not fashion, it isn't what's on the catwalk - just about what makes you feel like you're walking one, in a way that doesn't batter your bank account. The thriftier the better!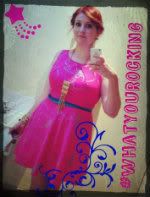 <a href="http//www.whatyourocking.blogspot.com" target="_blank"><img src="http://i1097.photobucket.com/albums/g344/Mommatwoblog/IMG_00851-1.jpg" border="0" alt="whatyourocking"></a>